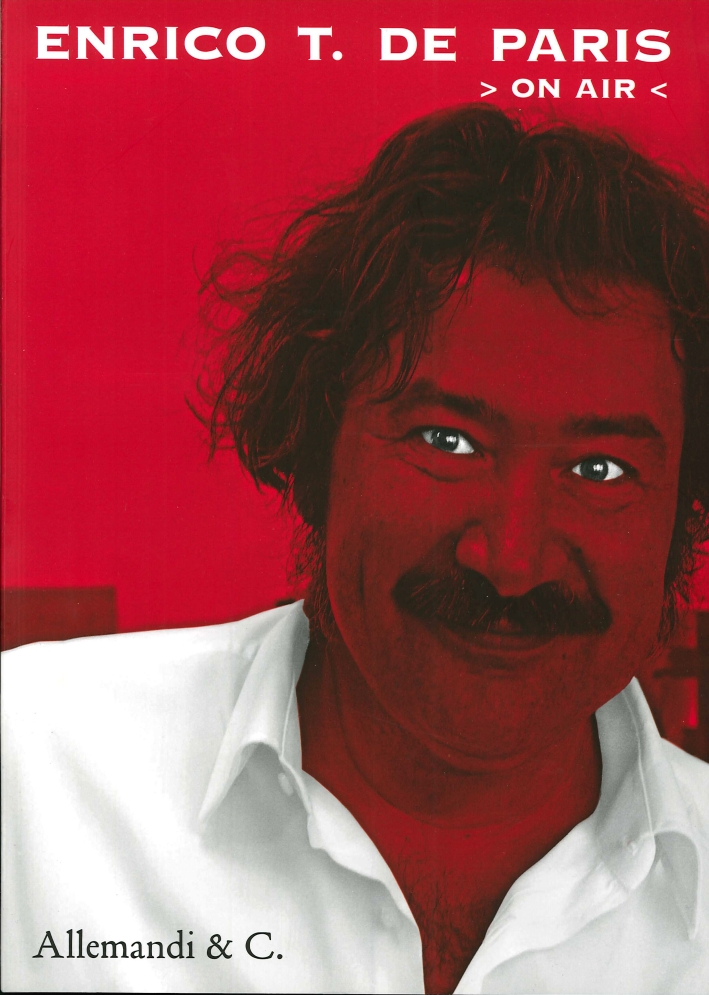 Enrico T. De Paris. On air. The Future is un Unmapped Land
Allemandi
Italian, English and German Text.
Torino, 2014; paperback, pp. 332, col. ill., col. plates, cm 21,5x30.
ISBN: 88-422-2312-3 EAN: 9788842223122
Subject: Graphic Arts (Prints, Drawings, Engravings, Miniatures),Monographs (Painting and Drawing),Monographs (Sculpture and Decorative Arts)
Period: 1960- Contemporary Period
Languages:
Weight: 1.62 kg
Potremmo pensare che una serie apparentemente incontrollata di accumuli intenda distogliere definitivamente la nostra attenzione dalle intenzioni originarie di un'operazione artistica, in modo da innescare una successione di continui complementi strutturali. Alla stesso modo, aiutandoci ad entrare in un mondo complesso e arbitrario, la stessa sequenza di appendici e accorpamenti potrebbe portarci a riflettere sul proliferare indifferente e misterioso della vita e del progresso. L'artista Enrico T. De Paris sembra proporci, oltre a tutto ciò, un ironico gioco di andata e ritorno tra ininterrotta produzione di senso e successivo scavo alla ricerca delle molteplici estensioni che completano l'opera.
Il catalogo ON AIR, recentemente pubblicato da Allemandi & C., propone un percorso straniante e volutamente eccessivo all'interno dei cosmi e dei microcosmi dell'artista. Pittura, scultura, installazioni, immagini digitali luminose e monitor contribuiscono a immergere lo sguardo del lettore in un mondo tanto immaginario quanto saldamente innestato su basi biotecnologiche.
All'interno di ogni universo pittorico o multimediale, possiamo osservare ulteriori diramazioni di escrescenze e il proliferare caotico di comunità periferiche.
Il volume raccoglie una selezione di appunti e testi, materiali documentari, fotografie, opere e disegni dell'artista fino al 2013. Suddiviso in capitoli, il libro presenta un percorso accattivante. Le sezioni sono introdotte da suggestioni e riflessioni creative sulle realtà. Attraverso microambienti e contesti alternativi, Enrico T. De Paris invita lo spettatore a prendere coscienza delle condizioni sociali, politiche ed economiche che governano la nostra epoca.
La sezione BIO-LANDSCAPES propone immagini digitali e lightboxes. H.O.T. e GOOD NEWS, serie di polittici, rivelano il fondamento estetico dell'operazione: la creazione di un sistema che trae linfa vitale dalla realtà, ma che se ne distacca per crearsi delle regole proprie. FLUSSI presenta strutture molecolari e astrazioni, asimmetrici scavi all'interno di un immaginario plasma cellulare. In questo senso, continui innesti e nuove variazioni non possono che portare alla creazione di opere totali. LABORATORY, installazioni dinamiche in acciaio inox, rappresentano carotaggi: immersioni indagatrici all'interno dell'uomo e della sua cultura. Creare per comprendere sembra essere il modus operandi privilegiato di Enrico T. De Paris. Contenuti psicologici e comunitari si sovrappongono e si trasformano per azionare, spontaneamente, una ricerca sul senso del nostro tempo e del nostro futuro.
ships in 24h
add to cart
YOU CAN ALSO BUY
SPECIAL OFFERS AND BESTSELLERS