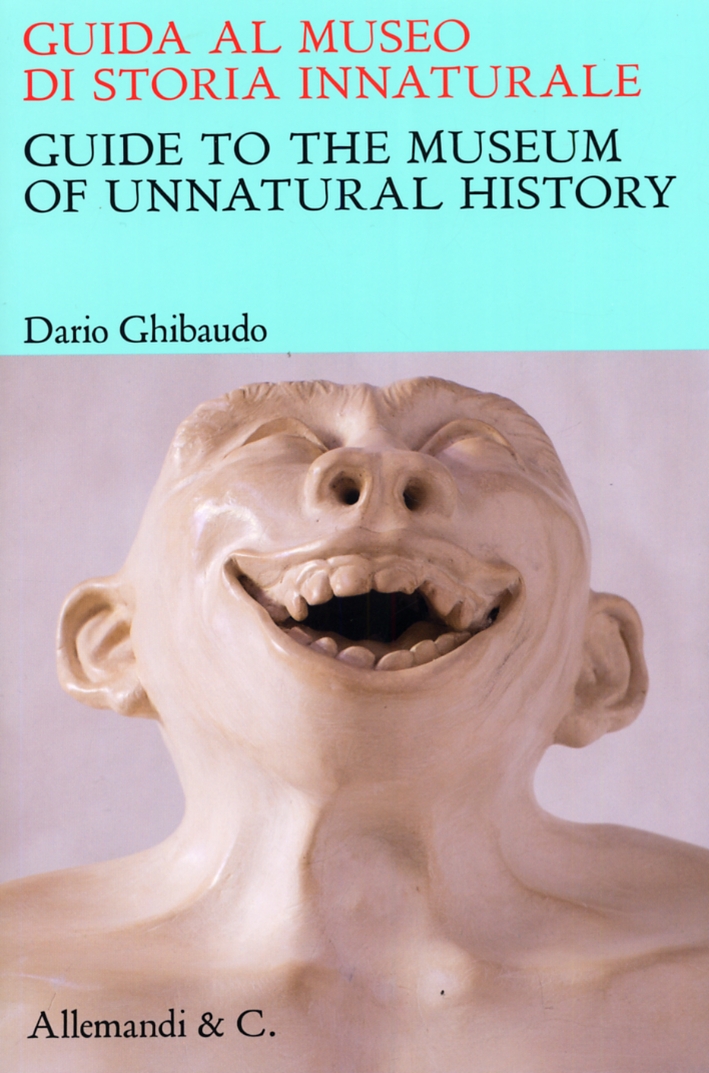 Guida al Museo di Storia Innaturale. Guide To the Museum of Unnatural History
Allemandi
Edited by Ghibaudo D.
Italian and English Text.
Torino, 2013; paperback, pp. 200, b/w and col. ill., tavv., cm 16,5x24.
ISBN: 88-422-2276-3 EAN: 9788842222767
Subject: Essays (Art or Architecture)
Period: 1960- Contemporary Period
Languages:
Weight: 0.65 kg
Un museo di storia innaturale, con opere d'arte mascherate da reperti scientifici. E' l'opera prima dell'artista Dario Ghibaudo: le idee e le opere frutto di una ricerca lunga una vita, sono ora racchiuse in un volume unico, edito da Allemandi & C. Editore e dato alle stampe a Torino a fine ottobre, proprio nei giorni sacri dell'arte contemporanea.
Duecentoventidue pagine raccontano un museo di circa venti sale costruito in altrettanti anni di carriera artistica, con opere pensate non solo per sé stesse, ma in una visione di insieme.
Come raccontano Rosalba e Giorgio Garuzzo, collezionisti che hanno sostenuto il libro di Ghibaudo: "Accadde che al primo incontro, da collezionisti impulsivi, senza sapere neppure dove avremmo potuto metterli, acquistammo sette suoi cristi a dimensione d'uomo, turbati e conquistati dallo strano appeal che ci aveva affascinato appena avevamo incontrato l'intrico di corpi di quell'installazione, pezzo forte alla mostra d'arte sacra di Teramo 2004".
"Soltanto più tardi - continuano - capimmo altri aspetti del lavoro e del carattere di Diario. Con grande coraggio e altrettanta tenacia andava sviluppando il suo progetto artistico che, anche se oggi è ancora lontano dalla conclusione, si può percepire nella sua grandiosità, come si evince da questa "guida": niente di meno che la concezione e il popolamento di un museo globale del quale l'artista è insieme ideatore, collezionista e creatore del contenuto".
L'opera "Siamo dei" fa attualmente parte dell'esposizione e collezione permanente dell'Istituto Garuzzo per le Arti Visive - IGAV alla Castiglia di Saluzzo.
Origini del Museo di Storia Innaturale. Concepito nel 1990 e in continua crescita, il museo è composto da circa venti sale, ognuna intitolata ai diversi campi di indagine. L'opera di Dario Ghibaudo è solo a un primo sguardo di tipo scientifico. Il vero oggetto dell'indagine è la condizione umana, qui riletta con ironia.
"Le basi risalgono a quand'ero molto giovane - racconta l'artista - Ho provato sempre una forte curiosità per la natura e la società, la coniugazione fra le due attenzioni ha dato vita a questo, che è diventato il progetto di una vita, che mi permette di non trasformare il percorso artistico in un avvitamento su me stesso, stimolandomi a sviluppare sempre nuovi concetti che, di volta in volta, inserisco nel Museo di Storia Innaturale".
Le sale del museo. Antropologia, Natura morta, Botanica, Entomologia, Esemplari rari, Homo Pronto I trofei, Botanica organica, Le pelli, Etnografia, I diorami, Etnologia, Antropologia culturale, Anamorfosi, I busti, Creature meravigliose, Inchiostri su carta, Nasi d'artista, Sculture in pietra, Sala video e Bookshop.
ships in 24h
add to cart
YOU CAN ALSO BUY
SPECIAL OFFERS AND BESTSELLERS