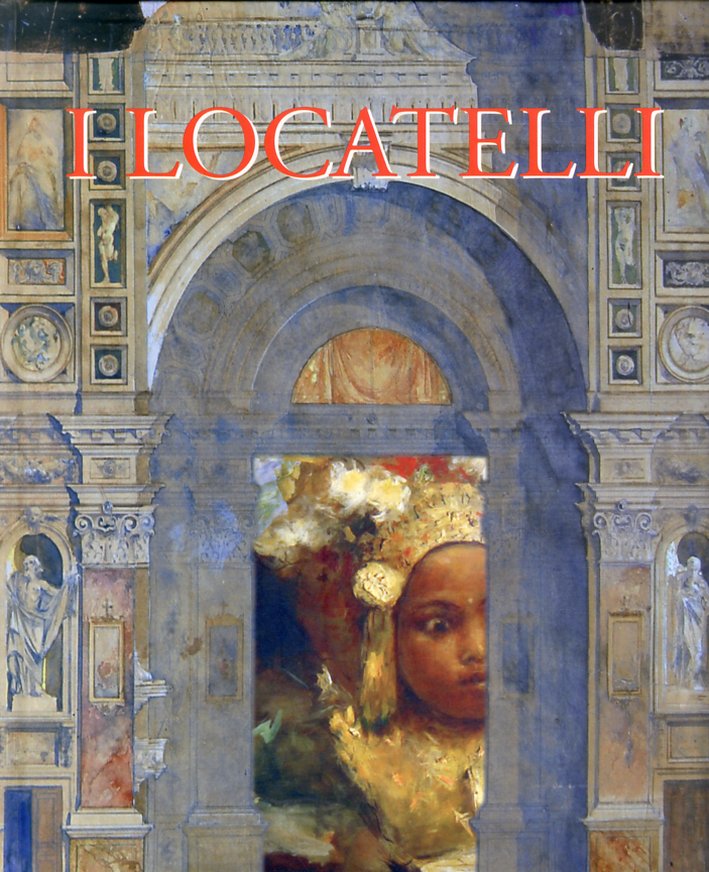 I Locatelli. Dalla bottega di famiglia alle collezioni d'Oriente
Bandecchi & Vivaldi
Bergamo, Palazzo della Provincia, March 8 - April 29, 2012.
Pontedera, 2012; hardback, pp. 208, b/w and col. ill., tavv., cm 25x31.
ISBN: EAN:
Subject: Monographs (Painting and Drawing)
Period: 1800-1960 (XIX-XX) Modern Period
Languages:
Weight: 1.42 kg
"Una delle più belle mostre mai allestite allo Spazio Viterbi". Così l'ha definita ieri l'assessore alla cultura della Provincia di Bergamo Giovanni Milesi inaugurando la grande esposizione "I Locatelli. Dalla bottega di famiglia alle collezioni d'Oriente".

Giocando d'anticipo sull'altra grande mostra evento dell'anno in città, quella di Carlo Ceresa che inaugura oggi alle 18 alla Gamec e poi al Museo Bernareggi, ha preso il via giovedì sera la prima antologica dedicata alla tradizione storico artistica dei Locatelli.

La mostra, che propone oltre cento opere tra dipinti, sculture, disegni, studi per affresco, medaglie, bozzetti, mira a ricostruire oltre alla saga artistica famigliare, il clima culturale di un'epoca e del suo territorio, a partire dal capostipite della famiglia artistica, Giuseppe detto Steenì, attivo ancora negli anni dieci del Novecento fino al nipote Orfeo Locatelli (1919- 2000) con il quale si chiude la trasmissione del mestiere di padre in figlio.

Una mostra autorevole e grandiosa per come è concepita, che crea un dialogo tra le generazioni grazie a un allestimento che affianca "nove piccole personali che si parlano tra loro", come ha sottolineato il curatore della mostra Flaminio Gualdoni. "La bottega dei Locatelli è stata attiva anche perché Bergamo si è dotata di una scuola come la Fantoni e la Carrara, di un solido circuito di gallerie d'arte e premi di livello come il Premio Bergamo che hanno garantito stagioni floride e prestigiose per la pittura. Bergamo - ha precisato Gualdoni - è una città che proprio per questo ha reso possibile una vicenda plurigenerazionale, cioè una di quelle esperienze durevoli che nella storia dell'arte di solito si estinguono entro il Sei- Settecento, con l'avvento del professionismo moderno".

La rassegna, che per la ricchezza della proposta a tratti affolla le pareti e gli spazi espositivi, soddisfa l'occhio per la varietà e la bellezza delle opere raccolte. E il visitatore è accompagnato nel vivo del racconto da foto d'archivio e dai pannelli documentali allestiti con interessante dovizia informativa, utili anche per rintracciare le opere (affreschi, dipinti sacri) presenti sul territorio.

All'inaugurazione è intervenuto un nipote di Raffaello Locatelli, Emiliano Marrucchi Locatelli, che ha ringraziato l'amministrazione e gli sponsor per un evento impegnativo che "solo a Bergamo poteva realizzarsi con un tale concorso di energie". Dopo un ricordo personale di Elena Milesi, vedova del pittore Giuseppe Milesi, che ha raccontato gustosi aneddoti sull'amicizia del marito con Raffaello Locatelli, il vicepresidente del consiglio regionale Carlo Saffioti ha fatto il punto sull'importanza di una mostra che " valorizza in modo straordinario la capacità pittorica e la vena artistica di questa terra".
ships in 24h
add to cart
YOU CAN ALSO BUY
SPECIAL OFFERS AND BESTSELLERS