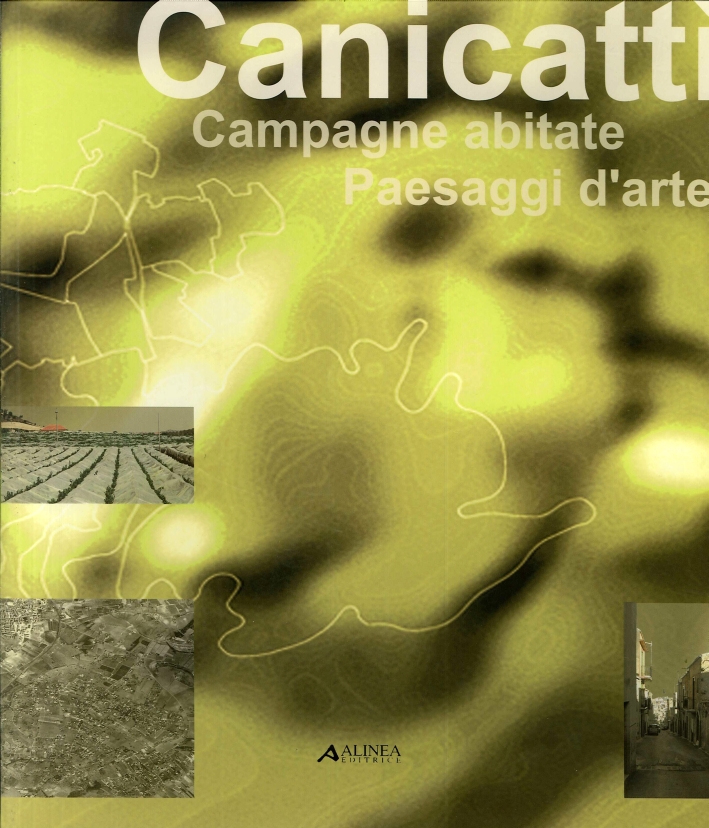 Canicattì: campagne abitate, paesaggi d'arte
Alinea
Edited by Contin A. and Sbacchi M.
Firenze, 2007; paperback, pp. 144, b/w and col. ill., cm 24x28.
(Architetture di Città . 73).
series: Architetture di Città 
ISBN: 88-6055-219-2 EAN: 9788860552198
Subject: Towns,Urbanism
Place: Sicily
Languages:
Weight: 0.8 kg
Il testo raccoglie il materiale di ricerca e di progetto elaborato per il Comune di Canicattì dal DISPA dell'Università di Palermo e dal DIAP del Politecnico di Milano. Il progetto sviluppato dai Dipartimenti palermitano e milanese (in qualità di partner tecnico alla ricerca per il Comune di Canicattì) ha partecipato, nell'ambito del progetto PROGRESDEC, al sottoprogetto dal titolo UD&EP (Urban Development and nvironmental Promotion), con partner prestigiosi come amministrazioni della Comunidad de Madrid. Il gruppo di Palermo è stato guidato dal prof. Michele Sbacchi e quello di Milano dai prof. Ernesto D'Alfonso e Antonella Contin. Il progetto analizza le differenze fra le politiche e gli strumenti di pianificazione nel campo dello sviluppo urbano e della protezione ambientale in zone di espansione residenziale nell'area montuosa a nord di Madrid e nel comune di Canicattì. Il lavoro si prefigge di studiare e trovare dei procedimenti per superare i conflitti tra la necessità di accrescimento urbano e la salvaguardia dell'ambiente. Queste soluzioni dovranno essere sia di tipo tecnico che politico, ossia strumenti di gestione che tengano in considerazione l'informazione, la partecipazione, l'opinione pubblica ed indicatori sociali ed economici. Il gruppo di Palermo, dopo aver fatto una lettura del territorio di Canicattì, concentrandosi soprattutto sul rapporto fra agricoltura e città , attraverso una serie di testi teorici e alcuni progetti campione, relativamente ad una nuova interpretazione dello sviluppo urbano di Canicattì, ha provato a mettere a punto una strategia che potrebbe stare alla base di più avanzati strumenti progettuali per la gestione del territorio. Emergono pertanto dal testo alcuni risultati che ritengo di grande interesse. Innanzitutto, emerge il ruolo del Dipartimento in relazione alle richieste provenienti dal territorio: in particolare nel caso del territorio siciliano, sede spesso di processi contraddittori, spesso connotati dall'abusivismo e quasi sempre dalla sostanziale mancanza di qualità dell'architettura. In questo, l'opera di ricerca e progetto svolta dal Dipartimento può e deve essere fondamentale, specie in un momento storico in cui pare che finalmente si possa cogliere una inversione di tendenza, attraverso un rinnovato ruolo delle istituzioni a favore della qualità del progetto: vedi in particolare l'opera appena iniziata del Dipartimento regionale per l'architettura e l'arte contemporanea (DARC), che ha già prodotto importanti iniziative in campo legislativo. Inoltre, emerge l'importanza delle relazioni, in campo nazionale con altri Dipartimenti universitari, in campo internazionale con enti locali spagnoli. Queste relazioni costituiscono motivi di crescita del Dipartimento, che deve aprirsi sempre di più a un sistema di scambi della conoscenza e delle competenze, indispensabile al nostro arricchimento e alla nostra capacità di fornire un apporto scientifico nell'ambito della nostra disciplina.
Oggetto di questa ulteriore pubblicazione, che nella stessa collana ha già affrontato i temi delle trasformazioni urbane -della scala "large" con Milano-Malpensa, Madrid e New York; di quella "medium" con Bari e Segovia- è stato ancora una volta quello di comunicare e confrontare studi e ricerche per elevare nelle cittadinanze la comprensione dei problemi dello sviluppo, attraverso una interazione con le popolazioni stesse, in cui convergano professionalità e competenze locali, nazionali e internazionali. Il nostro fine, come sempre, è quello di produrre come Istituzione Universitaria una visione proiettiva unitaria ed organica, che è immagine anche sintetico-simbolica di sperimentazioni possibili per il progetto urbano contemporaneo capace di produrre una idea di città integrata nel suo territorio.
ships in 24h
add to cart
YOU CAN ALSO BUY
SPECIAL OFFERS AND BESTSELLERS